Will Jon Stewart's successor, who is South African, compare Israeli policies to apartheid?
Many late-night comedy fans had the same reaction Monday morning when it was announced that Trevor Noah, a 31-year-old South African standup comedian who is relatively unknown in the United States, will replace Jon Stewart as the next host of The Daily Show: Who exactly is this guy?
Viewers had been calling on Comedy Central to appoint someone well-known like Tina Fey or the fan-favorite Daily Show correspondent Jessica Williams to succeed Stewart (overall, the insistence on having a female host in the male-dominated world of late-night comedy was also a constant).
However, some hard-core Daily Show fans may recall Noah's three memorable appearances as a correspondent on the show starting in December of last year, in which he skewered American (and more generally Western) views and stereotypes of Africa.
Noah, born to a black South African mother and a white Swiss father (when interracial relationships were illegal in apartheid South Africa), is already a star in his home country, where he has filmed several standup specials. In 2012 and 2013 he became the first South African comedian to perform on The Tonight Show and The Late Show with David Letterman respectively, and in 2012 he was the subject of a documentary called You Laugh But It's True.
Amid all of the anticipation surrounding Noah's surprise appointment, fans are already keenly interested in his views on the hot-button political topics that Stewart has never been afraid to address — especially the Israel-Palestinian conflict.
This interest in his Middle East views is of course mainly due to the fact that Jon Stewart was (and has been) one of the only mainstream American comedians to harshly critique Israel's stance towards the Palestinians. Even HBO Real Time host Bill Maher, one of this era's most outspoken and unapologetically liberal comics, is usually seen as more pro-Israel than Stewart (and has even been pegged by some as anti-Muslim because of his views on Muslim extremists). Meanwhile former Tonight Show host Jay Leno, who will travel to Israel in June to host the Genesis Prize award ceremony for the second consecutive year, recently told the Associated Press, "It seems like [Israel has] the worst PR in the world," adding "I don't understand how Israel is the bad guy here. It doesn't make any sense to me."
But Noah's own origins also trigger interest on this topic, since many critics compare Israel's policies to those of apartheid South Africa. Noah lived through the late years of apartheid as child. Although he has not commented directly on the Israel-Palestinian relationship so far, a couple of his past posts on social media indicate he probably won't be appearing at next year's American Israel Public Affairs Committee conference.
Some of his Twitter comments include: "South Africans know how to recycle like israel knows how to be peaceful"; "Almost bumped a Jewish kid crossing the road. He didn't look b4 crossing but I still would hav felt so bad in my german car!"; "Behind every successful Rap Billionaire is a double as rich Jewish man"; and "Messi gets the ball and the real players try to foul him, but Messi doesn't go down easy, just like jewish chicks #ElClassico."
He also posted the following photo: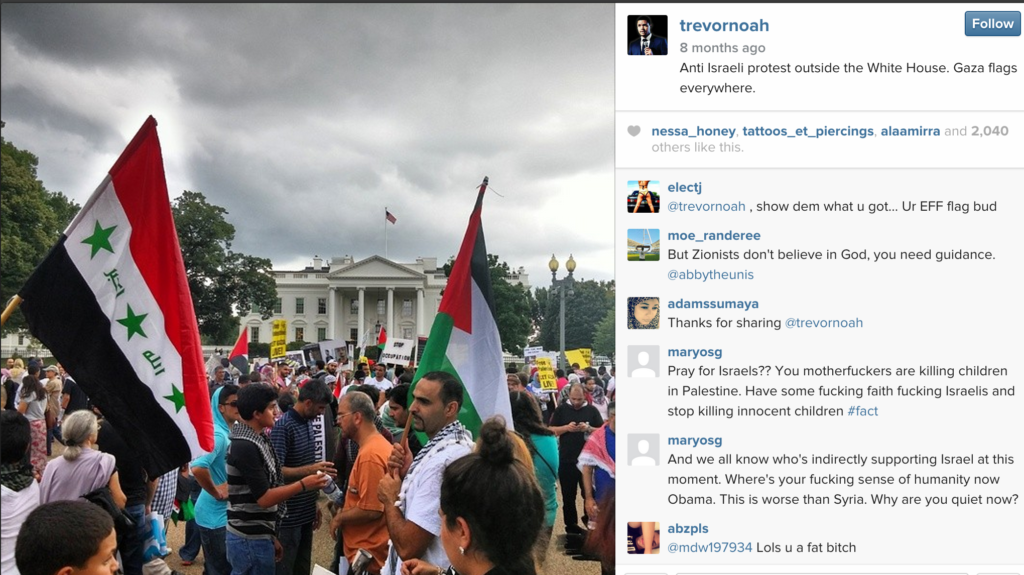 Lastly, The Nightly Show, hosted by black comic Larry Wilmore (the show that has replaced The Colbert Report in Comedy Central's coveted 11:30 pm slot), has introduced a new level of social critique to late-night television. Wilmore has made race relations between blacks and whites in the U.S. one of his primary topics.
Naturally, people will now wonder whether Noah will focus as candidly on race and related social issues on The Daily Show. Based on his prior Daily Show appearances and his standup routines, it seems like Noah is more than willing to do so.