The Republican Jewish establishment is watching the surge of political outsiders — like Donald Trump and Ben Carson — in the presidential primaries with dismay.
The Republican Jewish establishment is watching the surge of political outsiders — like Donald Trump and Ben Carson — in the presidential primaries with dismay.
"It's like we have a conference call every morning, and we ask, 'What can we do to screw ourselves up today?'" said Fred Zeidman, a longtime fundraiser for Republican presidential candidates.
Zeidman's exasperation pervades the Jewish Republican world: A party that has, in recent years, established a cozy relationship with Jewish conservatives seems to be careening — at least since the presidential race began.
Donald Trump, the billionaire reality show star, has lobbed rhetorical bombs at Hispanics, women and GOP rivals, and promised to deport 11 million illegal immigrants. Ben Carson, the retired world-famous neurosurgeon, said this weekend that a Muslim can't be president.
The two men are jostling for the lead in polls, with former Hewlett-Packard CEO Carly Fiorina in third. All three have never held elected office — and former Florida Gov. Jeb Bush, along with other establishment candidates, lag behind the outsiders.
"This election is proving that nobody really knows anything, including me," said Seth Mandel, the Op-Ed editor of the New York Post.
It's a disorienting experience for longtime Republican Jewish donors and activists, who have made inroads into the party's establishment over the last two decades, and who have been at the forefront of advocacy for tolerance and pluralism within the party.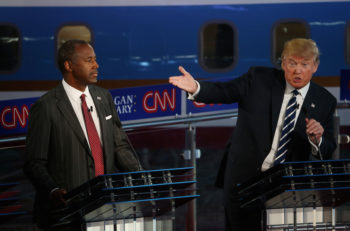 Donald Trump and Ben Carson at the second Republican presidential debate at the Reagan Library in Simi Valley, California on Sept. 16, 2015. (Justin Sullivan/Getty Images)
"The tone of what they're saying, we get painted as a party of intolerance," said Zeidman, who practices law in the Houston area and backs Bush's candidacy.
The anti-immigrant rhetoric especially infuriates Zeidman, a past chairman of the U.S. Holocaust Memorial Council, who was driving near his home during his phone interview with JTA.
"I think half the people I'm looking at doing roadwork in 100-degree heat are not legal — and they are working their tuchus off," he said.
Mandel said online that white supremacist backing for Trump — who has suggested immigrants from Mexico are predominantly criminals — has been unsettling. "That will always make Jews uncomfortable, that's why there's so much pushback" among some Jewish conservatives against the Trump candidacy.
READ: Does Donald Trump know the difference between Hamas and Hezbollah?
Yet an American Jewish Committee poll of American Jews earlier this month showed Trump leading among GOP candidates, garnering 10.2 percent of Jewish support, to come in third behind Democratic candidates Hillary Clinton, with 39.7 percent, and Sen. Bernie Sanders of Vermont, with 17.8 percent. Among self-declared Republicans in the poll, Trump led, garnering 28 percent of their support. Bush came in second with 19 percent.
The feeling among Jewish Republicans reached by JTA was of chagrin — qualified by a belief that the party will right itself by the time primaries start early next year.
Mel Sembler, a Florida real estate magnate and a past financial chairman of the party, who backs Bush, said polls now showing outsiders in the lead mattered less than funds raised by candidates — and his candidate has raised over $100 million.
"What you have now is a popularity contest on TV and people pressing buttons, it's all theater," he said in an interview. "What's important in the long run from my standpoint is who's got the finances to sustain himself. Jeb Bush has raised $114 million and has $97 million in the bank. We're here for the long haul."
Trump, a billionaire, has said he is able to match such spending, but has yet to invest deeply in his own campaign. Sembler said he'll believe Trump is a contender when he sees the candidate pony up cash.
"Trump is a big talker," Sembler said. "I have yet to see him write a $100 million check."
The question now, said Mandel, is what does this mean once primary season begins in earnest in January?
"The fear is not Donald Trump winning — it's if he can maintain a segment of the base, if he can sit at 20 percent," he said. "He has the money to fight, and wheel and deal all the way up to the convention."
READ: When it comes to Jewish ties, no GOP candidate trumps Trump
Tevi Troy, a deputy health secretary in the President George W. Bush administration who is not yet backing a candidate, said one plus that's emerging from the debates is that the entire range of candidates — insiders and outsiders alike — are pro-Israel and have embraced the party's skepticism of the Iran nuclear deal.
Contrast that with previous Republican primary seasons, when disruptive outsiders were cool on Israel – notably in the 1990s, when Pat Buchanan ran twice, Troy said.
"Fortunately, the outsiders this time, just about all are exceedingly pro-Israel and that's a good thing," he said.
Mandel said not all outsiders give Jewish voters pause. Fiorina, for instance, has hewed to mainstream GOP talking points.
Still, he noted, for a constituency that has cultivated the Republican establishment, the emergence of outsiders is discomfiting.
Mark McNulty, the spokesman for the Republican Jewish Coalition, said candidates and Jewish Republicans will have an opportunity to learn more about one another in December, when the coalition hosts its presidential forum in Washington.
"It gives them an opportunity to interact with our members and activists," he said. "We want to offer every opportunity we can for anyone who's running for president to use us as a resource."
The Republican Jewish Coalition's board is a who's who of the party's most generous givers — most famously Sheldon Adelson, the Las Vegas casino magnate.
Adelson has yet to come out for a candidate, the conventional wisdom being that he waiting in order to avoid a repeat of 2012, when his bankrolling of long-shot Newt Gingrich ended up weakening the eventual nominee, Mitt Romney. But one of Adelson's top allies, Mort Klein of the Zionist Organization of America, recently expressed concern over Trump's behavior and lead in the polls.
"Trump is making many of us very nervous," Klein told Talking Points Memo, speaking after Trump derided Carson's skills as a physician. (Carson is a world-famous neurosurgeon.) "He doesn't have the temperament to be president. I mean, really, to lash out at Carson as a talented doctor? You don't know what you're talking about."
A senior GOP consultant with ties to the Jewish community said the outsiders are getting good press because of anti-incumbent anger that hasn't abated since the 2010 Tea Party-led Republican sweep of Congress.
The caution that accrues naturally in political office is absent among the outsiders; it's also missing from Sen. Ted Cruz, R-Texas, the freshman senator who has taken a hard line on immigration and entered into an alliance with Trump, said the operative, who has yet to back a candidate.
"When you get an outsider who has none of that experience, none of that training, they will say a lot more extreme and unguarded things and that produces raw, red meat statements that appeal to extremes at the primary base," said the consultant, "and that's who is paying attention this early in the game."