More than 120 people killed in a series of terror attacks that rocked Paris on Friday the 13th.
More than 120 people were reportedly killed and another 100 wounded in a series of terror attacks that rocked Paris and its suburb of Saint-Denis Friday night.
French President Francois Hollande in a televised address late Friday said the "unprecedented" attacks, which, according to Le Monde, affected at least six locations. He declared a state of emergency throughout France and closed the country's borders.
"This is a terrible ordeal which once again assails us," he said in remarks translated by Reuters. "We know where it comes from, who these criminals are, who these terrorists are." On Friday, Hollande accused the Islamic State terror organization, which assumed responsibility for the attacks in a statement, of perpetrating them. The attacks, he said "were an act of war" that "was planned by an army of terrorists" outside France "with collaboration from within." He declared three days of national mourning.
Roger Cukierman, the president of the CRIF, the umbrella group of Jewish institutions in France, told JTA Friday that he had not heard of any Jewish targets but that the situation remained fluid.
"The security team of the Jewish community is on high alert," he said.
One of the deadliest attacks involved at least one shooter who fired at patrons of Le Bataclan, a concert venue in Paris' central11th arrondissement, or district. Dozens died there, according to reports. French security personnel stormed the building, believing hostages may have be held inside. Police killed two terrorists on site. The same venue had come under threats in the past over its hosting of pro-Israel events, and had been the subject of a plot to strike it by Al Qaeda terrorists who thought the owners were Jews, according to Le Figaro.
In total, eight suspected terrorists were killed Friday night. One of them had been identified as a French national in his 3os, according to Le Monde. Near one of the bodies of the assailants, police found the passport of a Syrian who passed into the European Union though Greece in October, a Greek minister told Reuters.
"The holder of the passport passed through the island of Leros on 3 October 2015, where he was identified according to EU rules," said Nikos Toscas, Greece's deputy minister in charge of policing.
Three of the eight attackers are believed to have come from the Brussels neighbourhood on Molenbeek, which local police raided Saturday, The Guardian reported.
READ: Israeli father, son killed in West Bank shooting
Another three shooting attacks occurred in the northern 10th arrondissement, according to Le Figaro newspaper.
Hollande was at the Stade de France stadium north of central Paris when at least one bomb exploded there during a soccer match between the French and German national teams, according to press reports. Hollande was evacuated to safety.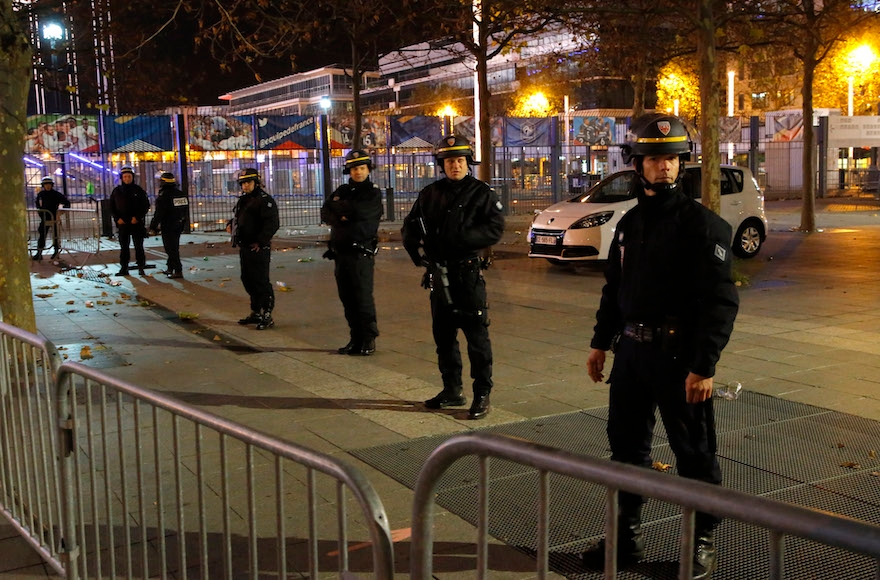 Police officers securing the Stade de France stadium during the soccer match between France and Germany in Saint Denis, outside Paris, Nov. 13, 2015. (Michel Euler/AP Images)
The French president said he had ordered a full mobilization of security forces to neutralize the threat and secure all affected neighborhoods.
Israeli Prime Minister Benjamin Netanyahu ordered his country's security agencies to supply "any possible assistance" to France following the attacks, Le Monde reported.
Speaking from the White House Friday night, U.S. President Barack Obama said he was prepared to provide any assistance to the French government and people in the wake the deadly attacks.
"This is an attack not just on Paris," he said. "It's an attack not just on the people of France, but this is an attack on all of humanity and the universal values that we share."
The attacks come some 10 months after four people were killed in hostage siege on a Paris kosher supermarket on January 9. That deadly attack, perpetrated by an Islamist extremist, came just days after a pair of Islamist terrorists shot to death 12 people at the offices of the French satirical newspaper Charlie Hebdo. A third terrorist attack in January killed a police officer in a Paris suburb.
READ: 'Jihadi John,' who beheaded Steven Sotloff, thought killed in airstrike
Security concerns have led many French Jews to immigrate to Israel in recent years. In 2014, for the first time ever, more Jews moved to Israel from France than from any other country. Nearly 7,000 French immigrants arrived in Israel in 2014, double the 3,400 who came in 2013. So far in 2015, some 6,250 French Jews have left for Israel.
Sacha Reingewirtz, the president of France's powerful Jewish student union, UEJF, was at a Shabbat dinner with some 200 Jewish student leaders at the group's annual convention when news of the attacks broke.
"The room started to buzz, and word passed on very quickly" he said when reached by phone late Friday.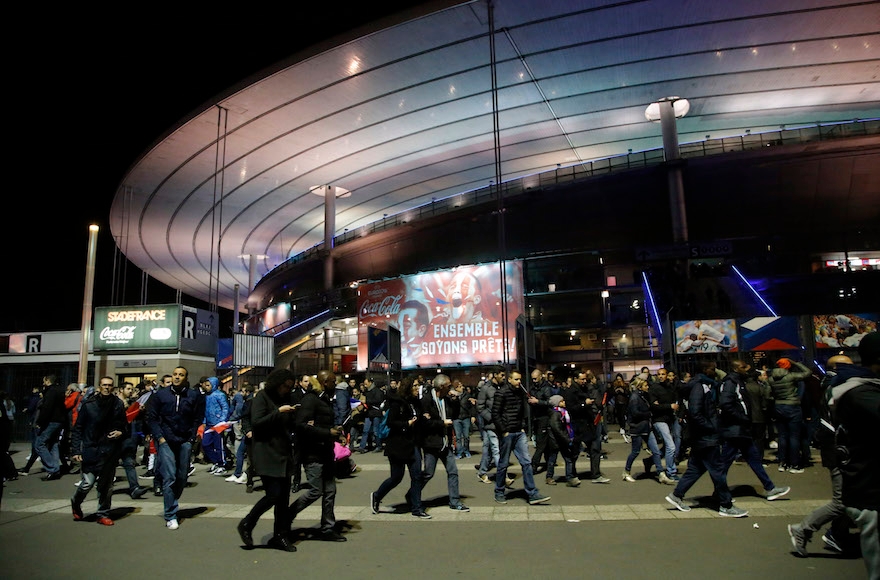 People leaving the Stade de France stadium after the soccer match between France and Germany in Saint Denis, outside Paris, Nov. 13, 2015 (Michel Euler/AP Images)
The UEJF is holding its convention this weekend in Strasbourg, about 300 miles east of Paris. Reingewirtz said about half the participants were from Paris and the atmosphere was "very tense" as they attempted to reach friends and relatives in the French capital.
He said UEJF was monitoring the situation and would take additional security measures if needed.
CRIF canceled a rally planned for Sunday in protest of the scheduled visit of Iranian President Hassan Rouhani. On Saturday, Iran announced he will postpone his visit because of the attack. Rouhani sent his condolences to the French nation in a statement in which he called the attacks "a crime against humanity."