American Pharoah has the chance to become the first Triple Crown winner since 1978 and bring his Orthodox owner the triumph that has eluded him for years.
On Saturday, a brawny 3-year-old colt named American Pharoah will take to the Belmont Stakes racetrack in a bid to become the first Triple Crown winner since 1978.
A win would not only rock the sports world, it would also be a triumphant stand for Ahmed Zayat, an Orthodox Jew from Egypt who has become one of the biggest forces in horse racing but has mostly tasted bitter defeat in recent years. Before American Pharoah's victories last month, Zayat had watched horses he owned finish second in the Kentucky Derby three out of the last four years. In 2012, horses owned by Zayat finished second in each of the three Triple Crown races – the Kentucky Derby, the Preakness Stakes and the Belmont Stakes.
In his history-making attempt, American Pharoah may have some Jewish luck in his favor. Jockey Victor Espinoza, who is not Jewish, visited the Lubavitcher rebbe's grave on Thursday in Cambria Heights, New York, in the borough of Queens, where he prayed and presumably asked for good luck.
Here are 7 things to know about Zayat and his champion stallion.
Ahmed Zayat grew up in a wealthy suburb of Cairo, where his father was Egyptian President Anwar Sadat's doctor.
As a young teenager, Zayat won the under-12 and under-14 national show jumping championships in Egypt (a once-thriving Jewish community, though fewer than 40 Jews remain in the country today).
After graduating from Yeshiva University, Zayat worked for the haredi Orthodox real estate developer Zev Wolfson.
Zayat went to college in the United States and then worked for Wolfson, a wealthy real estate entrepreneur and major Jewish philanthropist.
He made his fortune in part by selling non-alcoholic malt drinks in Egypt.
Zayat returned to Egypt in 1995 and formed an investment group that bought the newly privatized Al Ahram Beverages company. Zayat helped turn the company around by introducing Fayrouz – a non-alcoholic blend of malt, fruit and sparkling water – into its line of products. In 2002, Zayat sold the company to Heineken for $280 million.
Zayat has been millions of dollars in debt on multiple occasions.
He has the reputation of being a flamboyant, risk-taking gambler and gotten into financial trouble over the years. In 2009, the Fifth Third Bank of Lexington, Kentucky, accused him of defaulting on four loans after losing over $50 million. On Thursday, a different lawsuit against Zayat alleging that he owed a Florida resident $1.65 million was thrown out. "It's a scam from A to Z. It's total fiction. It's a total lie," he had previously told The Associated Press.
He donates to Jewish causes.
Zayat once donated $500,000 to the Frisch School, a Jewish day school in Paramus, New Jersey.
American Pharoah flies to races in his own plane called Air Horse One.
The bay colt, who was born on Groundhog Day in 2012, likes to fly in style and comfort. It behooves him, because while he is a 3-5 betting favorite for the Belmont, several horses that did not compete in the earlier Triple Crown races will race on Saturday. Given the intensity of each race, the rested horses have a good chance of stopping American Pharoah from making history.
American Pharoah's name is a typo.
The correct spelling of "pharaoh" reverses the "a" and "o." According to the Boston Globe, an Arkansas woman suggested the name and spelled it wrong. Zayat's son Justin, who acts as a manager at Zayat Stables in Hackensack, New Jersey, didn't notice the typo at the time.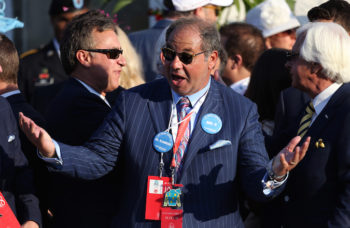 Ahmed Zayat reacting after American Pharoah won the 141st running of the Kentucky Derby in Louisville, Kentucky on May 2, 2015. (Andy Lyons/Getty Images)